End of Life Symposium Webinar Series
Caring for patients at the end of life, whether during anticipated or sudden death is a challenging experience for everyone involved in providing care to the patient. Education and discussions around the issues faced at the end of life are critical to fostering a comfort level with clinical staff, caregivers, patients, families and institutions.  As science advances to provide the latest treatments, the need for palliative and end of life care has also increased.  Those working with patients should be educated on and fully informed of how they can help patients in many ways and provide resources, including psychosocial and spiritual aspects, when they transition from curative to comfort-focused care. 

Over a nine month period this activity is designed to educate and prepare those providing care to patients at the end of life in understanding the various influences that affect patients when the focus of their treatment changes from curative to comfort-focused care allowing for a life with quality even when curative treatments are no longer an option.
This Webinar Series will feature topics in Humanities & Arts, Clinical Aspects of End of Life, and Medical Aid in Dying, and will be offered in the following manner: 
The Live Webinar Sessions are from 12:15 - 1:15pm Pacific Time
Every Picture Tells a Story: A Young Photographer Shares Her Husband's Moving End-of-Life Experience Through Her Lens | September 3, 2020
The Actively Dying Patient | October 1, 2020
Patient Perspectives on Medical Aid in Dying | November 5, 2020
Literature & End of Life: Poetry, Books & Patient Stories | December 3, 2020
Grief & Bereavement at the End of Life | January 7, 2021 
How Medical Aid in Dying Really Works in Authorized States | February 4, 2021
Cinema at the End of Life | March 4, 2021
Palliative/Hospice Care Emergencies | April 1, 2021
Aid in Dying Medications & the Clinical Competencies of Prescribing | May 6, 2021
Target Audience
Physicians, nurse, administrators, social workers who care for patients at the end of life.
Learning Objectives
Aide in the integration of the humanities to contribute to and enhance end of life care
Understand the clinical aspects of end of life care
Describe the options available to patients at the end of life including Medical Aid in Dying
 
City of Hope ~ Virtual Meeting
United States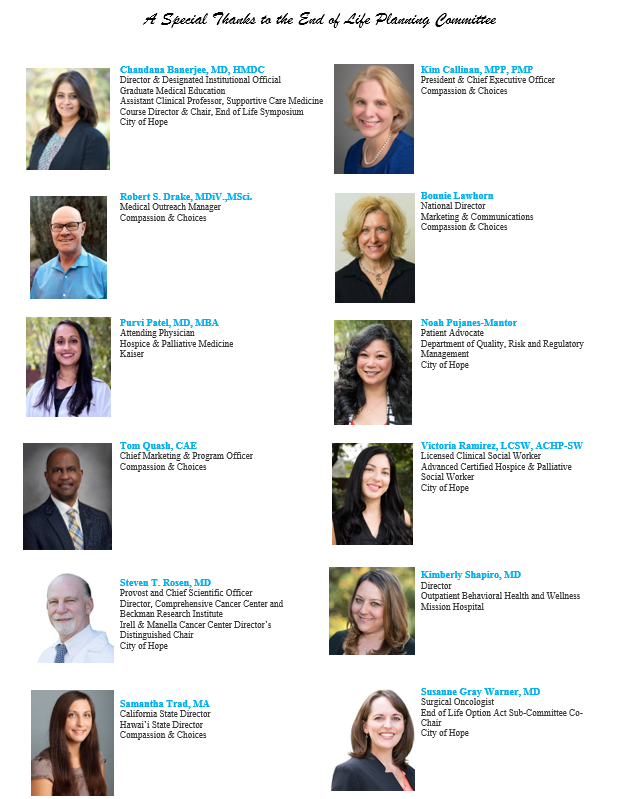 This activity has been planned and implemented in strict compliance with the accreditation requirements, standards, and policies of the ACCME. City of Hope takes responsibility for the content, quality and scientific integrity of this CME activity.
As an accredited CME provider City of Hope requires everyone who is in a position to control the content of an educational activity to disclose all relevant financial relationships with any commercial interest. The ACCME defines "relevant financial relationships" as financial relationships in any amount, occurring within the past 12 months, including financial relationships of a spouse that could create a conflict of interest. Any potential conflicts relative to the previous disclosure have been resolved.
Written disclosure of all such relevant commercial relationships will be provided in the activity handout and/or syllabus. Any potential conflicts relative to the previous disclosure have been resolved.
City of Hope further encourages faculty/ authors to identify investigational products or off-label uses of products regulated by the U.S. Food and Drug Administration, at first mention and where appropriate in the content.
The information and opinions presented in this activity do not constitute medical or legal advice. Health care providers must exercise their own professional judgment in their clinical practice, and when confronted with the issues discussed herein, should not substitute this curriculum for the advice of legal counsel or application of sound ethical principles.
Chandana Banerjee, MD, HMDC, Kim Callinan, MPP, PMP, Robert S. Drake, MDiV.,MSci., Bonnie Lawhorn, Purvi Patel, MD, MBA, Noah Pujanes-Mantor, Tom Quash, CAE, Victoria Ramirez, LCSW, ACHP-SW, Crystal Saavedra, BA, Kimberly Shapiro, MD, Bonnie Lawhorn and Samantha Trad, MA all have indicated they have nothing to disclose. 
Susanne Gray Warner, MD has inidicated that she is a Consultant for Olympus, AMS/Boston Scientific and Coloplast. Steven T. Rosen, MD has indicated he is a Consultant for Novartis Pharmaceuticals Corporation, Pepromene Bio, Inc., Exicure and Apobiologix/Apotex Inc. He also is on the Speaker's Bureau for Celgene, Global Education Group and Paradigm Medical Communications, LLC and AbbVie Pharmaceuticals.
ACCREDITATION STATEMENT: City of Hope is accredited by the Accreditation Council for Continuing Medical Education (ACCME) to provide continuing medical education for physicians.
CREDIT DESIGNATION: City of Hope designates this live activity for a maximum of 1.0 AMA PRA Category 1 Credit™. Physicians should claim only the credit commensurate with the extent of their participation in the activity. 
The following credit type(s) are being offered for this course:
•  AMA PRA Category 1™  1.0
The following may apply AMA PRA Category 1 Credit™ for license renewal:
Registered Nurses: Nurses may report up to 1.0 credit hours toward the continuing education requirements for license renewal by their state Board of Registered Nurses (BRN). AMA PRA Category 1 Credit™ may be noted on the license renewal application in lieu of a BRN provider number.
Physician Assistants: The National Commission on Certification of Physicians Assistants states that AMA PRA Category 1 Credit™ accredited courses are acceptable for CME requirements for recertification.
Available Credit
1.00

AMA PRA Category 1 Credit™

City of Hope is accredited by the Accreditation Council for Continuing Medical Education (ACCME) to provide continuing medical education for physicians.
City of Hope designates this End of Life Symposium Webinar Series for a maximum of 1.00 AMA PRA Category 1 Credit™ requirements. Physicians should claim only the credit commensurate with the extent of their participation in the activity.

1.00

Attendance